My name is Jesse Matthews, and I am a new teacher. My introduction to teaching comes from various short and long term contracts, facilitating creativity arts and music workshops for teenages and young adults. General disadvantages as well as physical and/or learning disabilities were common with most of the students I worked with during this time. I used whatever technology was appropriate and available, to engage with the students to hopefully have them express themselves. I could see the cognitive wheels turning as the students would amaze themselves at how easy it was to be creative in the right environment, with the right tool at their fingertips. 
In these workshops and sessions I mainly focused on sound and music, and over the years I employed the same piece of technology in every scenario. Mostly for its ease of use, but also to try to get the most out of one tool, rather than finding the newest or trendiest ones. That single piece of educational technology is a very basic piece of electronic music equipment, commonly known as a sampler. After noticing that a lot of the students wanted to make music, but were very intimidated to learn the piano, guitar and even drums. It takes time, and with no guarantee you will be a master any time soon. However, the sampler offers a different way into the creative process of making music. Simply put, one can use the microphone to record a sound onto one of more of 16 available pads, that they can then push with their finger to 'play' or arrange into a sequence to make a song. Therefore you're not limited to your musical knowledge or proficiency, but instead can use your creativity to carve out your own voice using the sounds that mean something to you. Some actual audio examples from previous students include; their dog's bark, a rumbling stomach, rain on a bus shelter, smashing light bulbs, a whirlygig, and combing the hair of a childhood doll, just to name a few. These sounds were then used by the student as a part of a story or a song they put together, and it was the tool that aided this learning process.
Though the sampler is a very basic tool that anyone could use with some instant success, it is more importantly one that leaves the user wanting more. The tactile quality of the sampler allows the user to play it like a traditional instrument, but one that is personalized in a very immediate way. Which generally stimulates the player to learn quicker and consequently become confident and comfortable enough to then teach someone else the basics. Which is always great to see, and hear. 
I'm very excited by the creative potential and learning experiences I witnessed students having by using a simple tool like the sampler, and the possibilities that immersive educational technology could inspire. In a fantasy future classroom, AI/VR/AR could be commonplace educational technology to teach and learn with, especially with students who may need a different kind of experience to fully understand the material being taught. As an arts educator I'm always looking for the best way to allow students to bring their ideas to life and I believe creativity to be an important key to pattern recognition, problem solving, total comprehension and self-sufficient learning.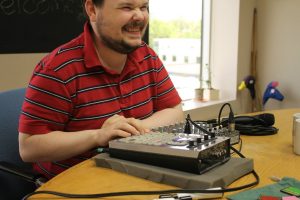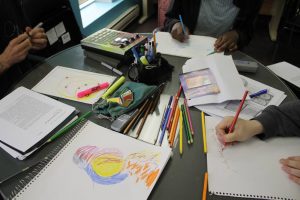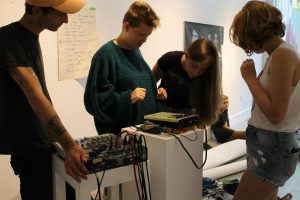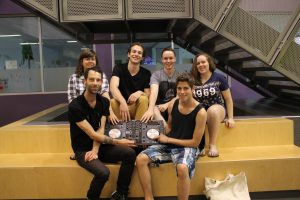 Research question:
I'm very keen on what AI/VR/AR could do for people suffering from developmental challenges, and other disadvantages that could make traditional learning environments difficult.  Does immersive educational technology actually activate cognitive thinking more than traditional methods? Could these types of educational technology allow students to learn more efficiently or to express their ideas more clearly? 
References:
Wyse, Lonce. (2019, July 30.) Mechanisms of Artistic Creativity in Deep Learning Neural Networks Communication and New Media Department National University of Singapore https://arxiv.org/pdf/1907.00321.pdf  
Utz, Vanessa, DiPaola, & Steve. (2019, September 15). Using an AI creativity system to explore how aesthetic experiences are processed along the brain's perceptual neural pathways. Retrieved from Science Direct  https://arxiv.org/abs/1909.06904v1
McDermott, E. (2020, January 7). Holly Herndon on Her AI Baby, Reanimating Tupac, and Extracting Voices. Retrieved from Art News https://www.artnews.com/art-in-america/interviews/holly-herndon-emily-mcdermott-spawn-ai-1202674301/
Schwarz, G. (2019, April 4). The art of virtual reality. Retrieved from Apollo Magazine https://www.apollo-magazine.com/virtual-reality-contemporary-art/
Loh, A. K. (2017, November 1). Alyssa K. Loh Virtual Reality and Empathy. Retrieved from 
Art Forum Magazine https://www.artforum.com/print/201709/alyssa-k-loh-on-virtual-reality-and-empathy-71781